¶Naritasan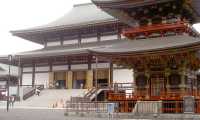 Naritasan Shinshoji temple is one of the largest temple in the Kanto region. There are 2.7 million of visitors around New Year's Day, and 10 million annually.
The worship is closet to the airport, so that many foreigners also visit it.
It was opened in 1038 AD, some people say it might be in 1068 AD.
Admission fee: free.

†Access

Train:
Abord at the Airport station, B1F of each terminal buildings. Each railway stops at Narita Airport sta, Terminal 2 sta, and Narita sta. To visit Naritasan, alight at the Narita station.

KEISEI line : 10mins. 250 Yen. 3 trains /hr. (Use limited-express, express, rapid, or local train. Extra fee is due for special express SKYLINER, and some passes the Narita station)

JR line : 10mins. 230 Yen. 1 train /hr. (Abord on express train. Extra fee will be charged on special express NARITA EXPRESS, some of which passes NARITA station)
(as of Jan 2010)

After arriving at the Narita station, walk through the blue route (Omotesando, the front aproach) for 15mins. If take a bus or a taxi, will drive on the red route.

Don't forget to travel around Naritasan park, next to the temple.

[LEGEND] K:KEISEI Narita sta. J:JR Narita sta.